You don't need a day on a calendar to show your team love or appreciation. They trudge through the mundane day-to-day tasks that bring you the business and revenue you need, but what are you doing to inspire, motivate and ignite into positive action?
Whether it's a personal greeting when they arrive, going out of your way to attend the morning huddle or being there when everyone clocks out and thanking them for a job well done, people need to know you see their efforts and appreciate them.
Many of my previous managers have been on my mind lately. I won't discuss the negative ones, that's for another day, but the positive impact ones, still stay with me, to this day. I've told you the story of the crystal cat; let me tell you about my district manager when I was with the Build-A-bear organization. I was responsible for driving community engagement and sales, and I managed to create the most significant community partners team in company history.
One day, randomly, said manager stopped by with a small flat jewellery type case, maybe bracelet size, handed it to me, and left the store without a word. (I found out later she had been waiting for me and wasn't looking for praise and thanks from me, just to deliver this message) Inside the box was a note that read, " I wish you could have experienced this in person but know your efforts here helped make this possible" Under the note was a large NYSE coin engraved with the BBW (the Build-A-Bear ticker code) Original Listing date of October 28, 2004. Everyone who had been there that day when they got to ring that bell received one. She chose to give me hers. I still have that to this day. Here's a picture of it.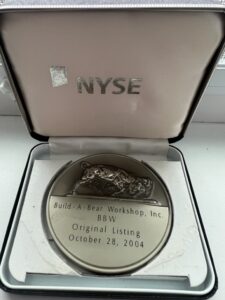 My point is this, get to know your team. Deeply know and understand what makes your team tick. They might be like me and appreciate knowing they are making a difference in the company's success or that someone sees my efforts. It might be as simple as going out of your way to check in regularly. You won't know what it is that lights them up until you go out of your way to know what that is and love on them in a way that will inspire them to reach for the stars.